Histoires de Filles
May 15, 2010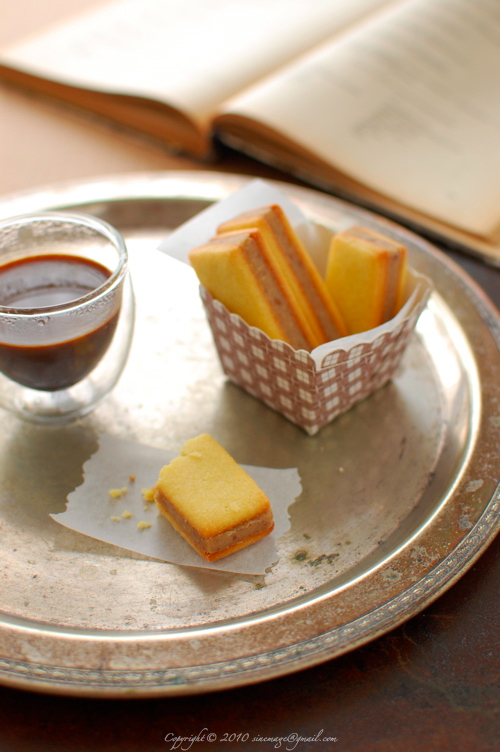 I received a couple of days ago an internet call from my sisters. We were so happy to speak to each other ! Time difference and everyone's timetable don't make it that easy to gather this way. Like usually, the conversation was animated and passionate. Just imagine four girls together ! A lot of laughs and a bit of tears too. And time running too quickly to tell everything.
When I prepared this coffee yesterday, I couldn't help but think of them. I wish they were here. We could have chat again around a cup of coffee and nibble on these little chestnut cream sandwich cookies.
I realised then, how much I miss them. My lovely sisters…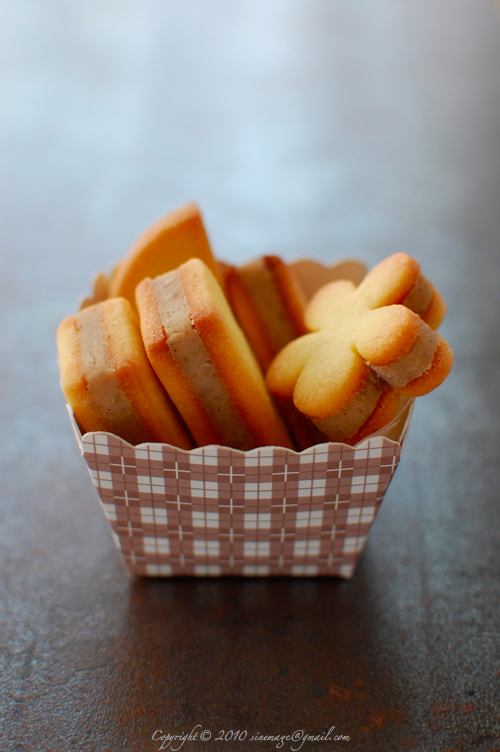 The making of the chestnut cream is time consuming, but it seems every year, when I see chestnuts on market stalls, I invariably have to make it. The chestnut cream recipe is the same I made last year. As for the cookie recipe, it can be found here. I've just ground the caster sugar to make a finer texture cookie.
_ _ _ _ _ _ _ _ _ _ _ _ _ _ _ _ _ _ _ _ _ _ _ _ _ _ _ _ _ _ _
J'ai reçu un appel internet de mes soeurs il y a quelques jours. Nous étions si contentes de pouvoir nous parler ! Le décalage horaire et l'emploi du temps de chacune ne permettent pas si facilement ce genre de rassemblement. Comme à l'accoutumée, la conversation était passionnée et animée. Imaginez quatre filles ensemble ! Beaucoup de rires et un peu de pleurs aussi. Et le temps qui file trop vite pour pouvoir tout se raconter.
Quand j'ai préparé hier le café, je n'ai pas pu m'empêcher de penser à elles. J'aurais souhaité qu'elles soient là. Nous aurions pu converser autour d'une tasse et grignoter ces sablées fourrés à la crème de marron.
J'ai réalisé par la suite à quel point elles me manquent. Mes charmantes soeurs…
La fabrication de la crème de marron consomme beaucoup de temps, mais il semble que chaque année, lorsque je vois les marrons sur les étals du marché, invariablement je dois la faire. La recette de la crème au marron est la même que celle de l'an dernier. Et pour les sablés, vous trouverez la recette là. J'ai juste moulu un peu le sucre pour avoir une texture de sablé un peu plus fine.
---
Comments
They are so perfect…they make my mouth watering… I read the other posts and wow, you are so talented and you have wonderful idea…Now I have to read all your post to be sure I'm not missing something… Mika
Such a lovely post, you are lucky to have such a close bond with your sisters. I love chestnuts, in fact there's a bag I must use up now, so I think chestnut cream is the way to go :) Thank you for the recipe. shaz
After reading about your excited, if tearful, conversation with your sisters I can imagine you sharing in a near future those chestnut cream sandwich cookies with coffee, tea and thousands of conversations. Thank you for sharing and Bonne Chance! Teresa
Such lovely photos and the biscuits look delicious. You are really good at food photography. Are you using natural light or a studio set up? razzbuffnik
Mark, thank you. Anne, thank you and welcome ! Miriam, thank you ! Razz, thanks, your compliment is much appreciated. I only use natural light. Vanille
Flo, non pas de frère. Sans doute trop intimidé par toutes ces filles ! Lol Vanille
Xiaolu, Rosa, Mika, Shaz, Teresa thank you ! Vanille
Great looking biscuits, I love how much cream you have sandwiched in them. Mark @ Cafe Campana
OMG, I love chestnut cream and your photos just look absolutely amazing! I'll be following your blog from now on, it's so beautiful! Anne's Kitchen
How come I hadn't found your blog before? It's delightful!! Miriam/The Winter Guest
Superbes photos (comme d'hab!) et un billet très évocateur. Ah, les liens entre soeurs…! Je suis d'une famille de 3 filles, j'ai 3 filles, une de mes meilleures amies d'enfance avait 4 soeurs, c'est très différent de familles avec garçons aussi… Mais peut-être as-tu des frères aussi? Bon dimanche! Flo Makanai
Lovely styling and tones in these photos. I've loved sweet and savory preparations of chestnut since childhood. I'm sure these delightful cookies would be no exception :). Xiaolu @ 6 Bittersweets
You are lucky to have such family ties… Those cookies must be divine! Cheers, Rosa Rosa