A Different Kind
March 01, 2012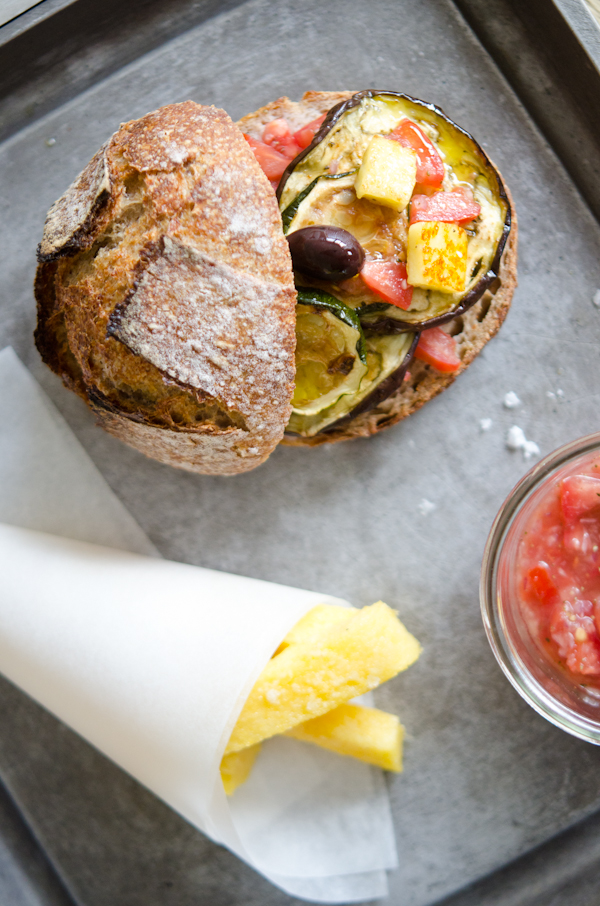 Sandwich. A humble yet universal fare. Made sometimes as a snack, or enjoyed as a full meal, the common and key ingredient is the bread. Any kind of bread. In the sandwich there's also this notion of a food that can be handheld, does not require cutlery and is easily transportable. And that's maybe one of the reasons it's so popular. The other thing is, it's versatile. It can be eaten hot or cold and the filling combination is endless.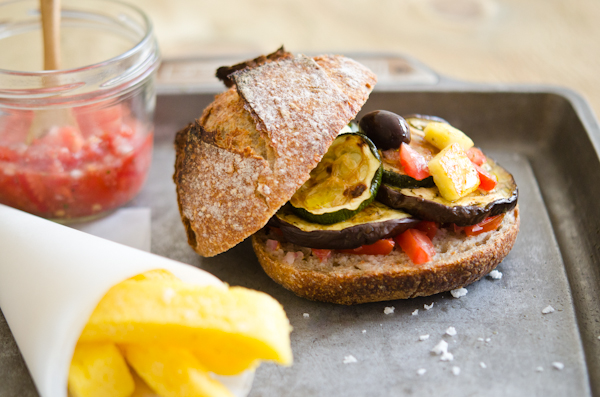 Like a game we started to enumerate with Paprika all the kind of sandwiches we know or heard of. We mentioned in no particular order the hotly pressed panini, the burger and its fries, the generously filled shawarma, the hot-dog and its essential sausage, the vietnamese bánh mì, the very soft English sandwich and the pan bagnat from Nice... There are many more for sure. We also thought about the open face ones like tartine and bruschetta...
Here I propose you a vegetarian sandwich made of a tasty and crunchy sourdough bread, roasted eggplant and zucchini, olives, tomato salsa and grilled halloumi. All served with polenta chips. Similar to a burger, but a different kind... I simply like the blend of Mediterranean flavours here with all the textures.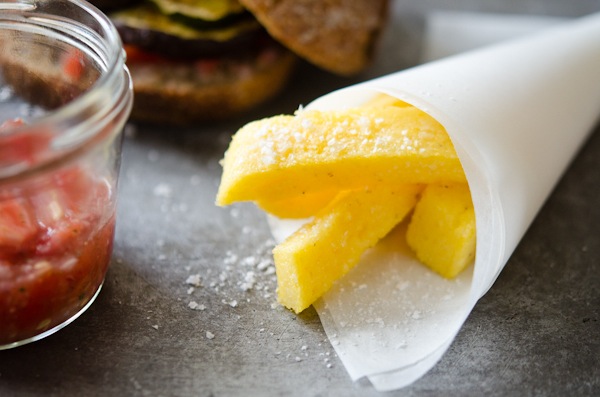 Mediterranean Burger & Polenta Chips
Sourdough Bread Roll (makes 6)
130g sourdough starter 260g water 390g flour (mix of white, rye and wholemeal) 1 tbsp of salt
For the process please follow the steps there. Divide dough in 6 equal parts and shape before final rise.
Filling 1 eggplant cut in 1/2cm (1/4") thick slices 2 zucchini cut in 1/2cm (1/4") thick slices 1 sprig of rosemary, leaves finely chopped 2 tomatoes, diced Handful of black pitted olives 200g halloumi diced Salt and pepper Olive oil
Preheat oven to 200°C (390°F). On a baking tray spread slices of eggplant and zucchini (you may do it in two batches) season liberally with salt and pepper and half of the rosemary and spray olive oil. Bake for about 15 minutes or until soft. In a little bowl mix together tomatoes, salt, pepper and the remaining rosemary. In a fry pan coated with oil, gently fry the halloumi cubes on each side. Slice each bread roll, spread a little of tomato salsa on the base then equally fill with roasted eggplant, zucchini, olives and fried halloumi. Season to your liking and serve.
Polenta Chips 200g instant polenta 800ml water Salt Olive oil
Cook following the packet instruction, stirring salt and olive oil at the end. Pour polenta in a well greased glass dish and let it cool completely. Slice the polenta into chunks. In a fry pan, heat a tablespoon of olive oil and fry on each side the polenta chunks (you may do this in different batches). Season with salt before serving.
Want More:
---
Comments
A lovely sandwich I love the filling. A great idea. Cheers, Rosa Rosa May (@RosasYummyYums)
That sandwhich looks delicious. I'm going to experiment making rolls rather than loaves and this seems a good way to celebrate those mini loaves. Domestic Executive (@domesticexec)
I've always wanted to make polenta chips, but am too nervous about messing them up…although I guess if they fall apart I've still got delicious fried polenta :) hungryandfrozen
What a wonderful lunch! This makes me wish for summer…. Sylvie @ Gourmande in the Kitchen
*That sandwich looks amazing ! * ratedkb
I checked out your portfolio and it is so beautiful and simply put together. Your photography is exquisite. I love all of the interesting recipes you post. Thanks for sharing them! hanschenklein
These are the best photos ever! So colorful, mild…tasty! I am sure desserts are also nice! yanakchl
This looks delisious and healthy ¡¡ El Oso con Botas
Wow, this burger looks REALLY yummy! allthethingsiate
I'm in love with your pictures. I'm going to try that polenta chips it must be great and original ! thaïs cecileetthais
Mmm. I'm hungry ! Clones 'n' Clowns
What a beautiful and delicious looking sandwich! Yikes! I've never heard of polenta in chips form but they sound amazing! Angie De Angelis
I like polenta chips, and the look of that bread :-). Ciao Alessandra Alessandra
Yum!! Love the idea of polenta fries. (and super thrilled that you are still using my 1.2.3 formula for baking your sourdouh bread!!! Those buns are lovely, perfect!) Une grosse bise Flo Flo Makanai
Vanille, your blog is beautiful! The food makes my mouth water! I just wanted to let you know that I've nominated you for the Versatile Blogger Award. Check out my post at www.trulymyrtle.blogspot.com for details!!! Libby
Great idea! The polenta chips fooled me, I really thought they were potato :) The sandwich sounds delicious, I like grilled vege sandwiches. shaz