Autumn Flavour
April 13, 2012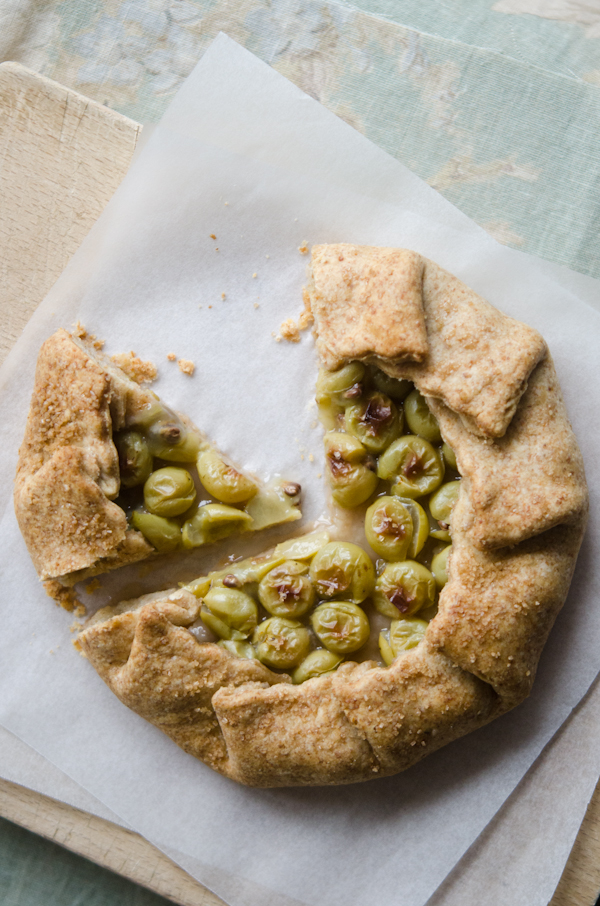 First the fragrance. A delicate and musky scent, delightfully filling the air. An olfactive invitation to be tasted. Then the sweet and juicy flesh... Pure bliss !
Autumn is such a rich season. Along with quince and feijoa, these grapes bring a beautiful fragrance to this particular time of year.
Like with any seasonal food, we tend to indulge knowing it won't last and so do I. After adding some daily to my breakfast fruit mix, the next thought was to prepare something with them. Preferably keeping the delicate grapes raw by fear of loosing their aroma, but baking them proved me wrong.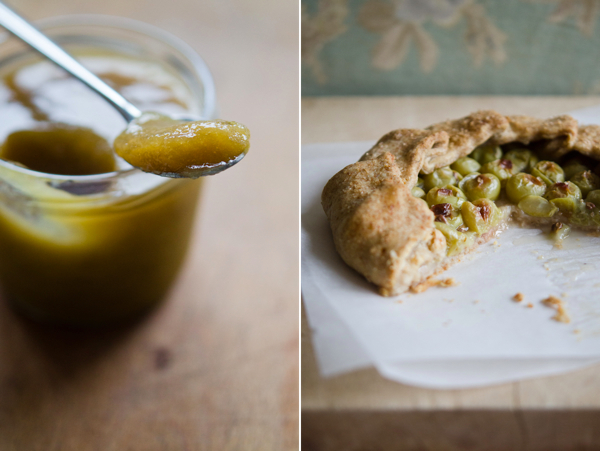 The free form tart I've baked them in retained well the fruit flavour and offered a light crust to serve them warm. Maybe not what you would prepare for a fancy dinner party, but the taste will make you all forget about the look. I've also tried to preserve a part and made a jam. And while the result is good, it's honestly not as fragrant as I hoped for. In the end it'll give me an opportunity to bake another version of these pockets or maybe a crostata...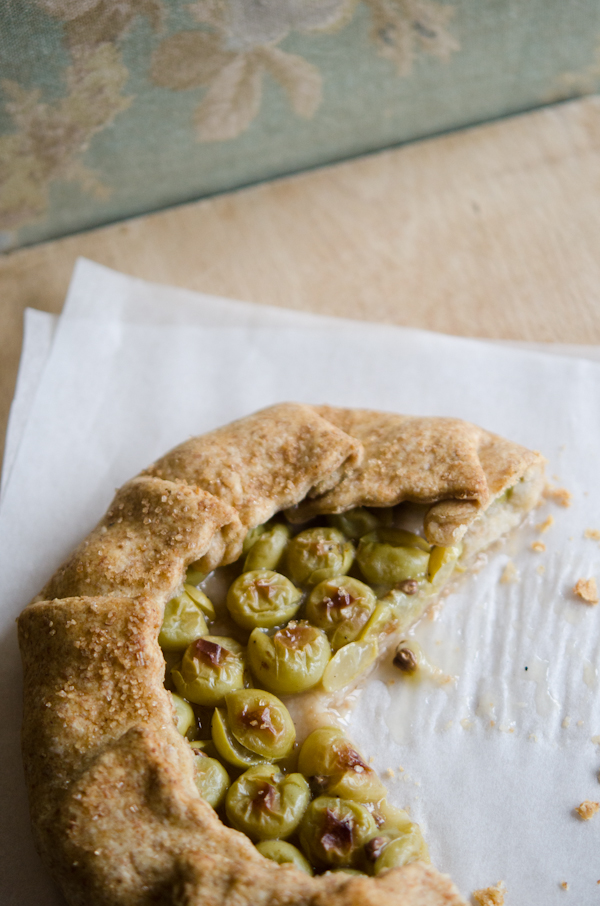 Wholemeal Grape Tart 125g white flour 125g wholemeal flour 70ml water 125g unsalted butter, diced 1 pinch of salt
280g-300g grapes Brown sugar
In a large bowl mix together flours and salt. Add butter to flour and mix with your finger tips to get a fine sandy texture. Add water and mix quickly but lightly with your hand to form a ball. Flatten the pastry into a thick disk, wrap it in cling wrap and let it rest for one hour in the fridge. Preheat oven to 180°C. Roll down the dough on a dusted flour surface. With the help of a plate or a pan cut out a large disk of pastry. Prick the bottom of pastry with a fork. Fill with grapes and fold in the edges of the pastry by pressing lightly flaps to secure. Sprinkle brown sugar on top and bake for 25 minutes or until golden on top. Remove from oven and let it cool a little on a cooling rack. Can be served still warm as well
You Might Like Too:
 _ _ _ _ _ _ _ _ _ _ _ _ _ _ _ _ _ _ _ _ _ _ _ _ _ _ _ _ _ _ _
D'abord le parfum. Une délicate odeur musquée qui remplit merveilleusement l'air. Une invitation olfactive à être gouté. Ensuite la chair sucrée et juteuse... Un vrai bonheur !
L'automne est une saison si riche. Avec le coing et le feijoa, ces raisins, apportent aussi un délicieux parfum à cette période spécifique de l'année.
Comme avec tout produit saisonnier, on a tendance à se faire plaisir en sachant que cela ne va pas durer et j'en fais de même. Après les ajouter quotidiennement à mon mélange de fruits du petit-déjeuner, la pensée qui a suivi a été de les préparer dans quelque chose. De préférence en les gardant crus par peur de perdre leur arôme, mais la cuisson au four m'a prouvé le contraire.
La tarte dans laquelle je les ai cuits a bien conservé l'arôme du fruit et offre une pâte légère dans laquelle les servir chaud. Peut-être pas ce qui présente le mieux à un dîner, mais le goût fait tout oublier de l'apparence. J'ai également essayé de conserver une partie des raisins sous forme de confiture. Et quand bien même le résultat est bon, il n'est honnêtement pas aussi parfumé que je l'espérais. Au final cela me donnera l'occasion de faire une variante de ces petits feuilletés ou pourquoi pas une crostata...
Tarte aux raisins frais
125g farine blanche 125g farine complète 70ml eau 125g beurre doux en cubes 1 pincée de sel
280g-300g raisins Sucre roux
Dans une jatte mélanger les farines et le sel. Ajouter le beurre et du bout des doigts travailler le mélange pour obtenir une texture sableuse. Ajouter l'eau et malaxer rapidement juste assez pour former une boule de pâte. Aplatir la pâte en un disque épais, envelopper de film alimentaire et laisser reposer au réfrigérateur pendant une heure. Préchauffer le four à 180°C. Etaler la pâte sur une surface légèrement farinée. A l'aide d'une grande assiette ou d'un plat circulaire, couper un grand disque de pâte. Piquer le fond de la tarte avec une fourchette. Remplir de raisins et replier les bords en pressant légérement les rabats pour sécuriser le tout. Saupoudrer de sucre et cuire au four pendant 25 minutes ou jusquà ce que le dessus soit bien doré. Retirer du four et laisser refroidir sur une grille. Peut se servir tiède également.
---
Comments
I never think to bake with grapes but this looks so beautiful and inviting I will have to try in a few months when fall arrives for us. Sylvie Shirazi (@gourmandeinthek)
[…] Autumn Flavour « At Down Under Autumn is such a rich season. Along with quince and feijoa, these grapes bring a beautiful fragrance to this particular time of year. Like with any seasonal food, we tend to indulge knowing it won't last and so do I. After adding some daily to my breakfast fruit mix, the next thought was to prepare something with them. Preferably keeping the delicate grapes raw by fear of loosing their aroma, but baking them proved me wrong. […] pies | Pearltrees
I love Autumn too, but I love all the seasons… it is just that the Autumn fruit is so beautiful… but I say that each season don't I??? :-). Ciao Alessandra Alessandra Zecchini (@AleZec)
I don't really associate grapes with autumn, well, cause it's never in season here. Nice still-life with grapes. Elisa
Wow, I have to admit I have never used grapes in this form and it looks so delicious I can taste it I can't wait to make it at home and give a try. Great post mythineats
A wonderful galette! I rarely use grapes in tarts. I'll have to use them more in the future… Cheers, Rosa Rosa May (@RosasYummyYums)
OHHHH YUUUUMMMMMM. That looks so good! (And beautiful too!) Zen and Genki
Never had anything baked with grapes in it! Adding this to my list of things to try! tomorrowswisdom
Love your recipes and your photography! Inspiring! Assia
Feijoa is my favourite fruit! I'd spend so much time sitting under the tree at home with my dog, a knife and a spoon! I love your recipes and photos! LEAF
Hi Vanille! This is a beautiful recipe. I gather in NZ is autumn right now… Well here we are at the beginning of spring, but I don't think I'll be able to wait that long to try your tarte aux raisins frais ;) Bluejellybeans
Love the colors with this recipe :) The Sundress Chef
Thank you ladies ! Wish you all a lovely week-end ! Vanille
I love a free form fruit galette. I'm making one this weekend with some plums. Lovely photos Vanille. Barbara
Oh my! Looks really yummy! mycookinghut
It looks really delicious and easy to make it. The pastry seems to be very crunchy El Oso con Botas
As there are so many grapes around at the moment I think that's the perfect tart to be making. I love the free-form, rustic look of this - very appealing! hotlyspiced
I think this is creative, never used Grapes in tart before! Would love to try this with red grapes :) kankana
Hi there,I've sent you the Kreativ Blogger Award at http://dinnerfornone.wordpress.com/2012/04/16/another-award-lifes-little-coincidences/. I searched your site but couldn't find out whether you've already received it, so I hope you haven't… Kiki
Hi there- Just wanted to let you know that I adore your blog and have nominated you for the Versatile Blogger Award. You can read about it (and see what you need to do to "accept" it in my post here: http://zenandgenki.com/2012/04/16/its-raining-love-the-versatile-blogger-award-x-2-and-the-sheer-bliss-of-being-elmo/ Thanks so much for sharing your beautiful photos (and goodies!) Have a great week! Anne Zen and Genki
I love the floral flavour of these grapes and what a perfect way to showcase them in a simple Galette! peasepudding
Bonjour! This seemed so lovely I had to try it myself. I also live in NZ so it was the perfect recipe for the weather. If you'd like, please visit my blog and have a look. Have a nice day! Viv