Sweet Steamed Dumpling
June 14, 2013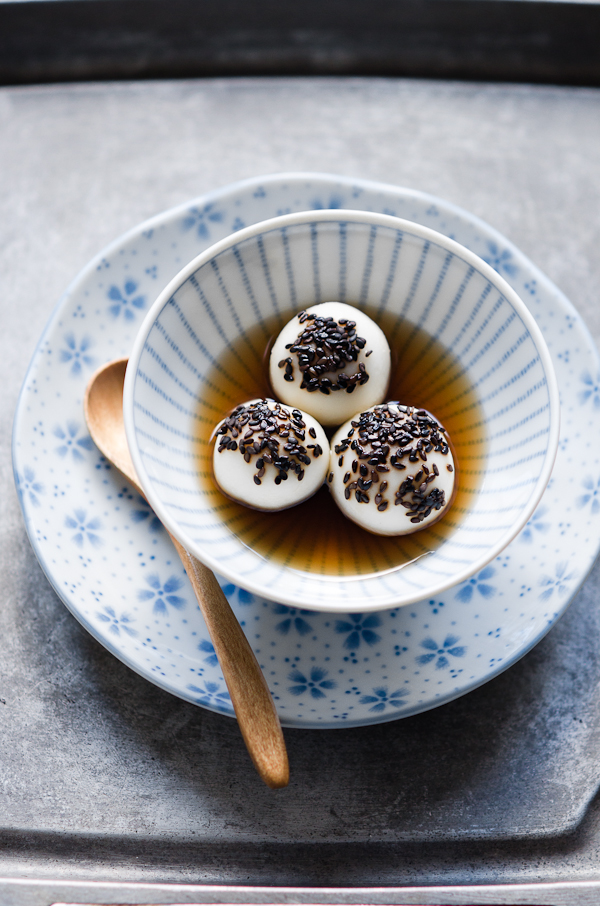 A year ago or so I had my first taste of sweet steamed dumplings. It was during a dumpling class taught by Vicky Ha of House of Dumplings. As much as I like savoury dumplings, the sweet ones stuck in my mind as I found them original, all round and smooth, bathing in a sweet flavoured broth.
Back at home, I tried to recreate them. They are rather simple to prepare. Don't be impressed by the shaping process and give it a go.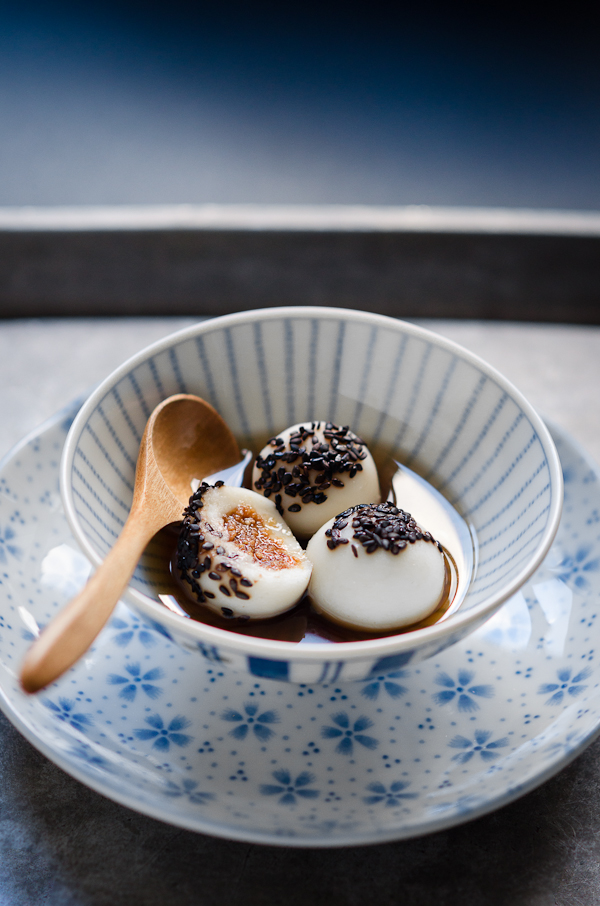 I used here a peanut filling hoping to reduce the stock in my pantry. Now that I have to empty the whole pantry in a couple of weeks, I just wonder why did I buy so many...
Anyway, I particularly find these sweet dumplings comforting, served steaming hot with a ladle of warm ginger syrup. They are perfect on a chilly winter night.
I also would like to thank you all for your supportive words on the previous post. Merci.
  Sweet Steamed Peanut Dumplings For 10-12 balls
Dumpling 50g rice flour 50g glutinous rice flour 75ml water (more if needed) Handful black sesame seeds (optional)
Peanut paste 30g roasted peanut finely ground 15g sugar 1 tsp water
Ginger syrup 150ml water 120g brown sugar 1 cm ginger piece, peeled and sliced
Mix together peanut, sugar and water to form a thick and sticky paste. Keep it aside. In a bowl mix flours together. Make a well in the centre and add water. Knead slightly to get a homogenous dough adding a teaspoon of water if necessary to adjust. Scoop a piece of dough and roll it between your palms to form a small ball -2cm diameter. Hold the ball in the palm of your hand and with your index finger gently press the ball and make a cavity in the centre. Widen the cavity by pressing the edge between your thumb and index finger and rotating the dough. Scoop peanut filling and roll it in a small ball -half the size of the dough ball. Place the peanut filling in the cavity and carefully close the dough. Lightly roll the ball to insure the filling is fully wrapped and sealed. Press slightly one side of the ball into sesame seeds and place on a plate. Proceed the same way with the remaining dough. Prepare a bamboo steamer over a pan of boiling water. Steam for 10-12 minutes. In the meantime prepare the ginger syrup. In a saucepan, melt sugar with water and ginger slices over medium fire. Bring to a boil and stir from time to time until the liquid thicken. Share equally the dumplings in 4 bowls, remove ginger slices from the syrup and pour over dumplings.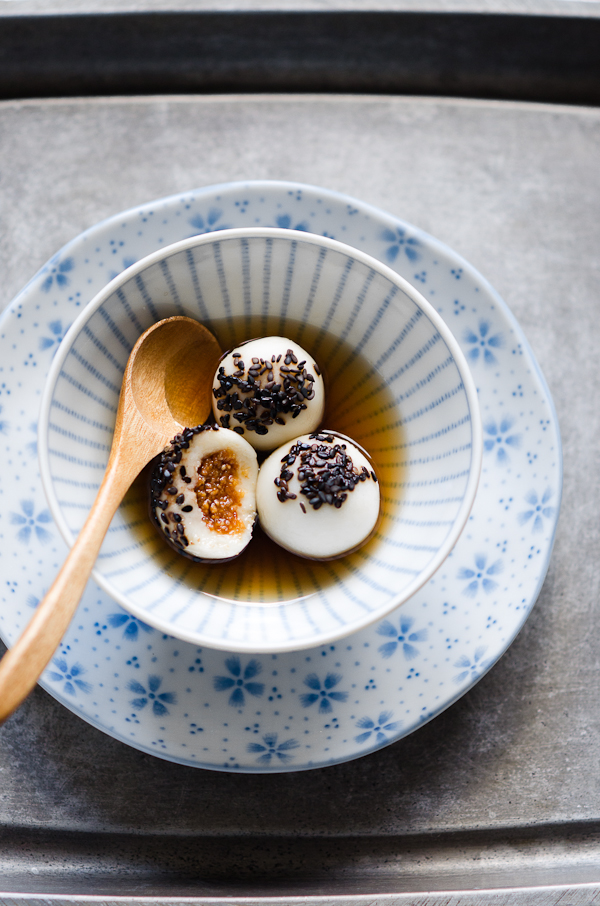 All images © Viviane Perényi

_ _ _ _ _ _ _ _ _ _ _ _ _ _ _ _ _ _ _ _ _ _ _ _ _ _ _ _ _ _ _

 

Il y a de cela un an plus ou moins, je goûtai pour la première fois des bouchées vapeur sucrées. C'était lors d'un cours de dumplings enseigné par Vicky Ha de House of Dumplings. Autant j'aime les bouchées vapeur classiques, cette version sucrée m'est restée en tête car je les ai trouvé originales, toutes rondes et lisses, accompagnées d'un bouillon aromatisé.

De retour à la maison, j'ai essayé de les recréer. Elles sont plutôt simples à préparer. Il ne faut pas se laisser impressioner par le façonnage et les essayer.

J'ai utilisé ici une garniture à la cacahuète, dans l'espoir de réduire le stock dans mon placard. A présent que je dois le vider entièrement en quelques semaines, je me demande pourquoi j'ai acheté autant de cacahuètes...

Néanmoins, je trouve ces bouchées vapeur sucrées particulièrement réconfortantes, servies chaudes avec une bonne louche de sirop au gingembre. Elles sont parfaites pour une nuit froide d'hiver.

Je voulais également vous remercier pour vos mots d'encouragement en réaction au billet précédent.
---
Comments
Well done! Looks really fantastic! If you like savoury dumpling, you could use mincemeat as filling. It is a traditional rice ball version in China. :-) qinskitchen
Well now you've done it, this may well become my favourite dessert. Food for Feast
extra yummy!!!! Thanks for sharing :-) Et une grosse bise Flo
You are talented! These look amazing- like little pillows of flavour. mrspotandmrlid
Thank you very much ! Would love to capture your beautiful plated creations ! Vanille
Yum! My (Vietnamese) mother-in-law makes these and I always look forward to eating them :-) She does a fried version too, which is really nice for the odd unhealthy treat. Emma Galloway
These are so delicate and beautiful - what an unusual dessert. Love it. jules @ bananamondaes
They seem so delicious! I'd love to try making them in my own kitchen, yet am unsure if I could use a 'normal' steamer instead a bamboo one? Why ideas? Bella
Bella, you can use a steamer if you don't have a bamboo one. Just make sure to grease well the bottom of the steamer to prevent the dumpling from sticking. Enjoy ! Vanille
They look really beautiful, yes I remember that class, I wonder if we are going to have another conference…, anyway, if you can please share this in this month's Sweet New Zealand, Sue is hosting. Hope you are well ciao Alessandra Alessandra Zecchini
Forgot to give you Sue's link. Alessandra Zecchini
Rosa, thank you ! Lizzy, something I should try then ! Jacob Engelsman, thank you. There's nothing to be intimated by, just try ! zmnz, ;) Sarah, the lotus flower sounds amazing, I just imagine the fragrance… Kankana, if you're a dumpling lover like me, chances you'll like these sweet yet different ones. Alessandra, thank you. Need to see with Ali for the next conference ! Vanille
Gorgeous! I can almost taste them. Love the fragrant peanut filling and I don't think I have tried these with ginger syrup, but it sounds lovely. Bunny Eats Design
Yum! I love these! Especially the ginger syrup! mycookinghut
Beautiful! Those refined looking dumplings are amazing. Cheers, Rosa Rosa Mayland
How delicious! I love the ones filled with black sesame! Lizzy (Good Things)
They look so tasty! Thanks so much for the recipe x isobelmasters
These are beautiful. I've always been intimidated by glutinous rice flour, but you make it sound so easy. Jacob Engelsman
yes!!!! yes yes yes!!!!!! GO NEW ZEALAND -ISM ! (Is that even a word?) zmnz
Those look so delicious. I adore mochi balls and have had read bean paste, lotus flower, and peanut butter. This looks like a warm variation of that…mmmmm… thyme (Sarah)
I never had sweet dumpling, although dumplings are one of my fav things to eat. These looks super pretty and the flavor sounds very interesting! Kankana
beautiful pictures on your blog!! Chef Frank Otte
How incredibly clever of you! These look delicious. Christine (FoodWineTravel)
Thanks a lot. They definitely are on my to do list for next week!! Bella
Etre touché par la grâce… Voilà aujourd'hui une expression qui trouve un sens à mes yeux! Merci pour ce bonheur des sens; un régale de tous les instants! Kenza